Issa Rae and LaKeith Stanfield starred in the romantic comedy The Photograph and it was a beautiful love story, but with a deeper meaning.
Mae, played by Issa Rae, lost her mother at the start of the movie. She didn't know much about her mom's life until she left her a letter explaining things. Mae's mother Christina was invested in her work and less into love and emotion. She didn't show much emotion around Mae and in her defense….it was because her mother didn't show her much love.
When Christina, played by Chante Adams, was dating Mae's father Issac, played by Y'lan Noel, her mother discouraged her from dating him because he was content where he was in life and wasn't making much money. Her mother gave her the impression that she needed to be with someone who could take care of her…so she could move out the house. Christina's mother told her she was getting too old to be living with her. That is what pushed her to move out the house, better yet the state and pursue her photography career in New York. Christina's mother lacked emotion with her and felt that being taken care was more important than love.
Once Christina had Mae, of course she's going to teach her daughter what was mimicked to her, which is how to NOT properly love someone and somewhat be scared of commitment. Since Mae wasn't shown much love as a kid, the feeling of commitment scared her. Mae said she broke up with a guy because he proposed to her. She is/was more content with living in the moment and not being married. She had a change of heart eventually once she got to know Michael, played by LaKeith Stanfield. He and Mae connected when was doing a story on a man who worked in the oil industry during the oil spill and he came across pictures shot by Mae's mother and even a picture of her. The guy used to date Mae's mother Christina. Michael was intrigued by Christina's photos that he decided to find more of her images, and when he did, that's how he met Mae.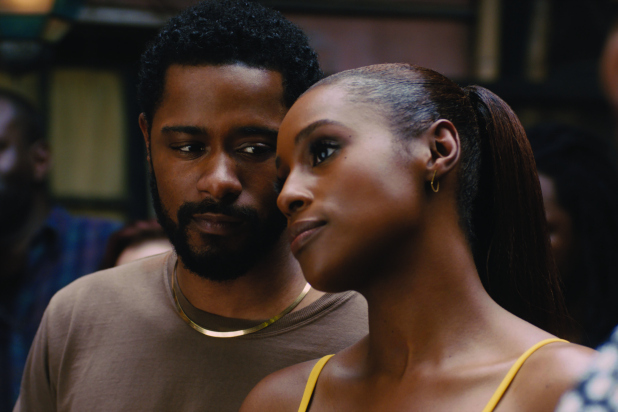 When Christina passed away, she left Mae a long letter and another to give to her father. Mae learned so much about her mother in a letter, than she learned about her her whole life. In the letter, she found out who her real father was and their love story. The man whom she thought was her father, wasn't and the man who is her father was the man whom Michael did a story on, Isaac– hence, the reason why he had a picture of Christina in his home. Unfortunately, Isaac didn't know that Mae was his daughter but they started to form a relationship towards the end of the movie. Christina had left her hometown in Louisiana to pursue a career in photography in New York. She left without telling Isaac and months later when she returned for her mother's funeral, Issac had married someone else (HOW QUICK IS THAT!)
Where the generational behavior comes into play is the fact that Christina's mother didn't really seem affectionate with Mae and showed her tough love. Don't get me wrong, tough love is fine but when it's more tough love than affectionate love, that can have a long term affect on you and how you raise your children. Christina lacked some form of emotion when it came to her relationship with Mae, due to the way her mother was with her. Mae recalled a time when she was going away to school and her mom was too busy to take her to the airport. Mae's step father told her that when he came home from dropping her off at the airport, Mae was crying in a corner because she was sad to see Mae go but she had a hard time showing emotion and was not good at goodbyes. Her mother was also a workaholic and expressed in her letter to Mae, "I wish I was as good at love than I am about working;" meaning, her mother was more into her work than she was with being present and transparent in her relationships with people such as Mae and even Isaac.
Luckily Mae learned from her mother's mishaps in relationships and decided to break the generational disconnect of loving someone and showing it with Michael. This movie is a prime example of "be who you want your children to be." Tell them to learn from you mistakes and show them how. Leaving your child lost and left with question is not the way to go. Don't hold back, show them love, be transparent with them.
What are your thoughts on the movie?
Comment below and let me know.