If you're a fan of the previous Toy Storys, Tom Hank, Tim Allen and childhood humor, then you'll love this movie. Originally, I thought the movie was going to be trash because it was about a spork BUT I thought wrong.
Spoiler/Synopis:
The movie is about Woody's new kid, Bonnie. She makes a spork in class on her first day of kindergarten and deems it as her favorite "toy." Forky is his name and he doesn't understand the concept of being a toy, but instead being trash, since that's how he was created. In the midst of a road trip, him and Woody get lost from Bonnie and just when they find her, they go into an antique shop, where they find Bo Peep's lamp. Woody thinks he can find her in there but instead he finds Gabby Gabby, the "villian" of the movie. She wants Woody's speaker box because hers is old, and if hers is newer and fresh then a little girl would want to take her home. Woody wasn't originally down with that swapping so he tried to escape from her and he does but Forky gets left behind. While Woody is trying to think of a plan to get back Forky, and keep up with where Bonnie is, he finds Bo Peep. She's out exploring the world, being an independent woman and importantly not tied to a child. She helps Woody rescue Forky and also opens his eyes to the world and that there's so much to see outside of a kid's bedroom. The movie ends with Woody rescuing Forky and making it back to Bonnie in time before she heads home. Woody decides to stay with Bo and leave Buzz, Jessie and and the whole squad.
What The Movie Captured
For starters, Woody isn't the head huncho in charge anymore. He had to take the back seat on being the sheriff in Bonnie's room. Another doll is in charge and Woody also isn't the favorite anymore, which is out of the ordinary. The movie also captured Woody really going out of his way to make Forky feel welcomed as a toy and explaining to him his worth as Bonnie's favorite new toy.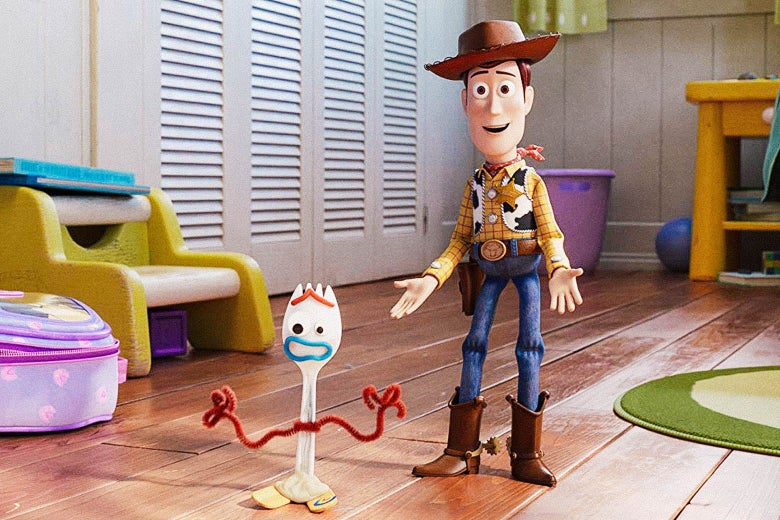 Sidebar: Each movie has a villain or antagonizer, for example; Sid was crazy creeper kid in the original Toy Story, Stinky Pete was the sneaky one in Toy Story 2, Lotso in Toy 3 and now Gabby Gabby in this movie.
I like how the writers captured Bo being independent and not following behind Woody. Her character hit a full 360 from being quiet nurturing Bo, to being exploring-the-world-not-attached-to-any-child Bo Peep. 
The comedy that the movie brought was awesome! Jordan Peele and Keegan Key playing Bunny and Ducky and doing their typical chemistry comedy. Keanu Reeves playing Duke Caboom. Forky just being new to life and not having a clue was adorably funny and Buzz Lightyear getting in touch with his inner thoughts but really it's the programmed catch phrases on his body.
What I would've liked, especially with this being the so-called last movie, is for Woody to find Andy. Andy could have a family now, Woody could make an appearance in his life, creep him out a bit by talking, show him some love, then go back to exploring the world with Bo. 
Overall, I loved the movies, even thought I didn't think I would and it brought out my inner childhood. 
Have you seen the movie? If so, how did you like it?
Danii Gold out!