The "Don" is defined as someone who is respected by many people, a leader, a king, or in this sense a Queen. Lola The Don is respected by many and says she's never walked into a room that she didn't deserve to be in.  Lola is DJ in a male dominated industry, a nursing student, and importantly a self-care advocate. She talks about her highs, lows and everything in between that it took for her to get to her happy place that she's in now. Check out her interview below.
DG: You're an entrepreneur, what all businesses do you have under your belt?
Lola The Don: The most prominent is Socialogy Care Company, that's the most visible right now.
DG: With Socialogy Care Company, there are 3 other co-creators. What all services do you all provide?
Lola The Don: We are a health and wellness care company. We get asked a lot if we are health gurus and people would come to us for health-related advice, and I would tell them that is not at all what we are. We are not the point of contact for health-related advice, but what we are is the point of contact for directing you to those people who can give you the correct health advice. We're the liaison, the middleman, between the community and health & wellness service providers. Those providers, for us, are anyone that offer some sort of services tailored to health & wellness; that could be a personal trainer, a fitness instructor, a gym, a healthy eatery, a person who makes body butter, a person who makes hair care products, even a financial specialist because good credit and finances is a part of health & wellness. Anything you can think of that is health & wellness related, we try to help the community find their services.
DG: What was your reasoning for wanting to start/become a co-creator of Socialogy Care Company?
Lola The Don: I was looking for health and wellness resources and did not know where to start. So, I wanted to help others who were having this same issue. So I decided to create something that would be a hub for people to be able to come and search for these health and wellness related resources." So, we, the creators of Socialogy Care Company, take the task of you having to use Google and provide you with the information on our website and look into our database to find the resources you need.
"Life be life-ing"
DG: Do you have a background in health & wellness?
Lola The Don: Yes, I got my bachelor's in Socialogy, then I went into the healthcare field as a case manager, which is like a baby social worker. I sat on the clinical team at a substance abuse treatment center for adolescent boys. It was heavy work and my first introduction to healthcare as a whole. I did that under two years and loved the experience and the children I worked it; they still reach out to me, to this day. That was the biggest take away from that job. Unfortunately, there was not a lot of pay in the field as a case manager, so I went back to school after doing some praying, soul searching, meditating and consulting with my higher powerful (shoutout to GOD), and I went back to school for nursing. I've always known that health & wellness was somehow my calling. So I started nursing school, then "Life started lifing" so I tabled it for a second and now I'm back in nursing school.
"I know you, I fuck with you"
DG: I've seen on your social media that you decided to give up alcohol and dating for a year. What prompted you to do that?
Lola The Don: I experienced a breakup a year ago. During that hard breakup, my mental health plummeted, and I fell into a state of depression. Prior to the relationship with him, I never really had anxiety but it started to develop within that relationship and it was really exasperating. That is something I look back on and it reinforces me stay on top of my mental health. After a couple weeks of having a pity party, I started taking the necessary steps for me to feel whole again; one of those things was letting go of drinking. When I would go through hard things, I would resort to drinking instead of letting myself feel feelings and healthily dealing with them. The second thing I gave up was dating and became celibate. I never sat with myself for an extended period of time as an adult. I was either in a relationship or always dating and that's a form of running away from yourself, in my opinion.  I realized that when you get with someone, you sometimes unconsciously lose  yourself within that person and when/if that person leaves, they will take a piece of you with them and you have nothing. So, I made a vow to myself that I will never let that happen to me again. It was equally the most grueling time in my life as it was the most rewarding. I stayed on path and at the end of it, I truly believe that certain blessings started to flow in and the biggest blessing was finally looking in the mirror and saying "I know you, I fuck with you" and no one can touch that. After this one-year cleanse, I met a guy and he's very nice, it's refreshing, and I am able to be in that space and pour into that but still have my boundaries and know who I am.
"I can not have this business and not walk the walk and talk the talk."
DG: What other practices do you do for your own personal health and wellness besides not drinking, in a sense of self-care? How are you practicing what you preach in Socialogy Care Co.?
Lola The Don: I can not have this business and not walk the walk and talk the talk. Firstly, I feel that what I put in my body physically (eat and drink) and spiritually (what I read, watch and listen to) matters. No, I'm not a saint eating the right things and listening to the purest things, but I do try to incorporate those things into my lifestyle regularly. I'm a big water drinker, I rarely drink anything besides that. Also, I pour positives things in my life like positive podcasts or YouTube videos. If I'm not listening to something self-care related, I'm listening to something business related. One of my favorite podcasts, The Wall Street Journal Secret to Wealthy Women and they talk about how they acquired their wealth and success. I love to journal, even though sometimes I find myself doing it on my phone instead of actually writing it. Two of the biggest things for me, self-care related, is practicing mindfulness; when I wake up in the morning, the first 30 minutes are important, so I don't check my phone and I talk to God. The other is practicing positive self-talk. I don't talk down on myself.
DG: With you going to nursing school, how are you going to implement your studies the Socialogy Care Company?
Lola The Don: Right now, I don't have the credentials behind my name, yet, but what I do have is my research and my personal experiences. Once I get my credentials, that'll make me much more credible to my subscribers.
DG: What events does Socialogy Care Company have coming up?
Lola The Don: Last year, our was goal was to produce an event every month and we were able to do that, whether it be one that we put on ourselves or one that we partnered with a health care professional or orchestrated a volunteer session. This year our goal has been to mainly show up at other people's events and support them.
We are in the process of working on our first annual citywide wellness retreat. It'll be a weekend getaway with everybody without breakout topics about financial, mental health, prayer circles, and just networking overall. We want to be able to produce this event every year.
"I'm coming back to buy the building of all those doors that were once closed on me." 
DG: Switching the focus to your DJ career. Is it intimidating being in a predominantly male industry?
Lola The Don: On the surface, generally speaking, sure, it could be intimidating for people. On a personal level, no. I actually embrace it and welcome it. I had a recent encounter not to long ago. I was booked to host an event by a good friend of mine, and I've hosted many events for him in the past before. Once I got to the venue, I went to the DJ booth and asked where the mic was because I was the host for the evening. The guy told me I wasn't getting the mic and I was confused of course but I didn't really trip off it too hard. I did reiterate that I was booked to host. He eventually hands me the mic and I was on it for a while, but he ended up requesting it back so I figured that we would go back and forth on the mic which is fine. I step away for a minute and come back to another guy being on the mic who is respected around and known for hosting. I respect that and his craft. So, I asked him was he hosting with me and he said no, he was only going to be on the mic and I told him, like I told the previous guy, that I was booked to be on the mic as well. He told me he was getting paid to host too. I'm mature enough to let it go, I got paid already so I decided to kick it with my friends. But during the times I did have the mic and was hosting, I noticed they kept turning my mic down. It was crazy and I thought "What is happening?" and "where is this energy coming from?" I think it is wack when a guy hates on a girl, we are in two totally different lanes. This is definitely a male dominant industry and I don't think it is a career for the faint heart, If you are a woman. We as women are required to show up 10 times more prepared so we can rightfully demand the respect that we are owed. There are times when I get doubt or side-eyed from people who may have concerns of why I get/got booked for things. I'm sure there are people think I got booked for a gig because I am a woman or for my looks. It goes back to me knowing what I'm capable of and qualified for. I don't get discouraged or deterred from situations like that. My mindset is "I'm coming back to buy the building of all those doors that were once closed on me." 
" As a woman, I always want to be seen as someone who conducts herself with a level of dignity, class and grace and not in a soft way, but in a way where things can roll off me and not knock me off of the life high I have going on."
DG: Wow that is crazy to have experienced that level of shade and hate but I guess it comes with the industry and luckily you have a positive mindset about it. So, to back the bus up, how did you get into DJ-ing?
Lola The Don: I've been DJ-ing off and on for 10 years. I've always loved music. Music is therapy for me. I actually have a very deep love for techno and house music. I have a lot of favorite techno DJs and it started there and my love for underground hip-hop like when TDE first started with Kendrick and School Boy Q. I also had love for Indie Rock and that's what made me want to be a DJ. There's a feeling that I get when I hear music being mashed together. There's this euphoria that over comes and these endorphins that are released and I want people to feel that.
DG: Who are your favorite female DJs and your overall DJs, men included, overall?
Lola The Don: My favorite female DJs right now is Shale, she does a lot of live mixes and mashups; Dj Millie, I love her look and how she brands herself. Also, Vashtie, she's the Dondada because she DJs, she's a video director [she directed one of Kendrick Lamar's first videos], she's a fashion designer, designing a brand of Jordans for women.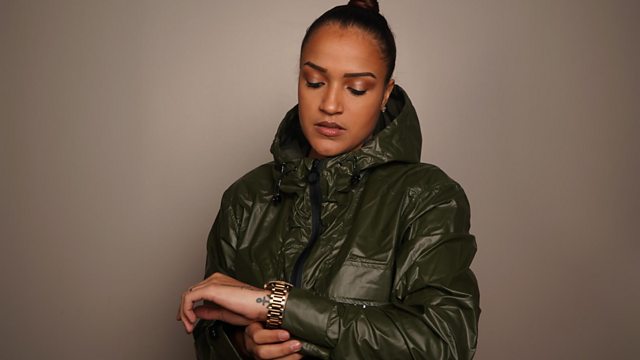 As far as my overall DJs, I love DJ Diplo. He has a group that he branched off and created and it's called Major Lazer. They are a mashup of techno, house music, reggae and hip-hop. I used to love Deadmau5  and his production; he does a lot of techno and house-inspired music. Those two are my favorite guy DJs.
DG: How far do you want your DJ-ing to go?
Lola The Don: The lane I'm really interested in tapping into is the vixen, sexy DJ lane. I really don't have the desire to DJ in the clubs, that's not my focal point. The radio is not a goal of mine, but I wouldn't mind being featured on there. I actually would like to be a traveling DJ. I just came back from an out of town gig in Chicago. I also would love to be someone's tour DJ. I've DJed behind my ex, who is also a musician. We actually did SXSW a few years ago. I've done a lot of underground showcases here too.
DG: What makes your DJ-ing style different?
Lola The Don: I would say the biggest thing that I'm coming out with is the energy that I'm trying to give off through my productions and mixes. Sou-lection is the vibe that I'm trying to gravitate towards. I want my sounds and mixes to be very fluid, flowy, and healing, but also something that you can dance and vibe to. The plan is to start dropping live videos of me mixing. I'm in the process of developing group of ladies called The Misses and every time I drop a live mix; I'll have two of my misses behind me dancing to my music. We're going to put on a show and that's the different thing im bringing to the table; it's not going to be just what you hear but there's a visual aspect to it as well.
Look out for Lola, whether she's DJ-ing or hosting your events or out with her co-founders promoting their business Socialogy Care Company or even at your local hospitals because she'll be a nurse soon!! She's a go-getter and wants to see everyone win. Follow her on Instagram @LolaDaDon