Netflix released a series this week called "Hollywood" and the title says everything of what it is about PLUS MORE. It takes place in the late 1940s and a few individuals are trying to get their big break in Hollywood; one guy being a white aspiring actor[Jack Castello, played by David Corenswet], a black gay screenwriter[Archie Coleman, played by Jeremy Pope], a black aspiring actress [Camille Washington, Laura Harrier] who wants more than maid roles, and a white aspiring gay actor [Rock Hudson, played by Jake Picking] who just wants a break. Of course during the 40s, being black and/or gay was very controversial and not accepted.
Archie Coleman wrote a film titled Peg but once the executives found out he was black, they wanted to pay him off and write someone else's name on the film. He wasn't going for that. Archie fought and with the help director Raymond Ainsley, played by Darren Criss, and some "not-so-bad" executives, he was able to still be part of the process and continue to have his name on the film. Raymond's girlfriend Camille [yes, an interracial couple] wanted to audition for the film even though the script is meant for an all-white cast. Archie and Raymond decided that if Camille was cast as the main character, then they would change the title to Meg. Luckily, she was cast as Meg!! It sparked controversy and even harassment but she overcame it, even Archie.
Camille even received support from Hattie McDaniels,  played by Queen Latifah. She warned her that she would face backlash, but nonetheless, she was proud of her. Hattie even congratulated Camille on her Oscar win backstage. At the time when Hattie won her Oscar years prior, she was unable to be in the main venue even though she was nominated. It was very monumental when she greeted Camille backstage.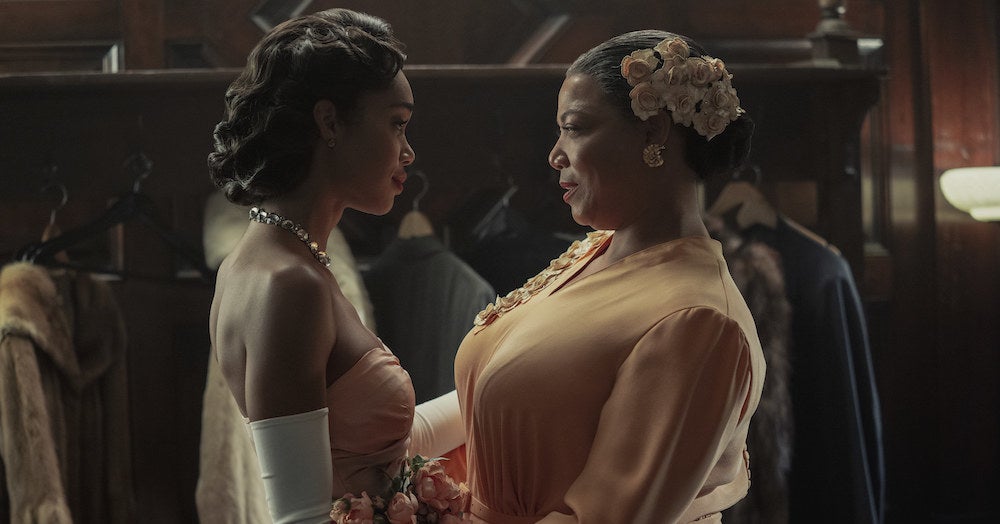 At the end of the movie while the cast of Meg is at the 20th annual Oscars, as the nominees and winners are being announced, you can tell the writers of the series wanted to focus on the minorities. When the white people of the cast of Meg won awards, they skipped their actual emotion and acceptance versus for the others. For instance, when Chinese actress Annie Mae Wong, played by Michelle Kruseic, won for best supporting actress, she was snubbed years back for a role in a different movie, so when she won this time, the writers of this series made sure to capture her emotions and presence on the stage. When Archie won for best writer, he not only kissed his boyfriend Rock in front of everyone, but once he got on stage to accept his award, he was unapologetic about it while being booed!! When Raymond won for best director, the camera captured him in the lobby with the award and the celebrating with the cast of the movie, not on stage. Lastly, when Camille won, everything from her heartbeat was being heard, to the long pause she took before speaking.
I loved how the producers captured what was not accepted and even possible in the 1940s. Some characters are real and others are fake but, they made the series seem more pleasant and acceptable and even not pitting the Camille and the white supporting actress against each other.
Did you all capture the series? If so, what are your thoughts?