featured image: foxnews.com
Yesterday Philly rapper Meek Mill was released from a Philadelphia prison, after serving 5 months.
I'd be the first to say that I'm not a huge Meek fan, but I like a few of his songs but have yet to listen to a full album of his. Dreams & Nightmares is my shit tho!
A judge, who denied his request for bail, decision was overturned by the Philadelphia Supreme Court. If you haven't been keeping up, he was sentenced to 2-4 years in prison for a probation violation, which stemmed from him being convicted of drug & gun charges back in 2008.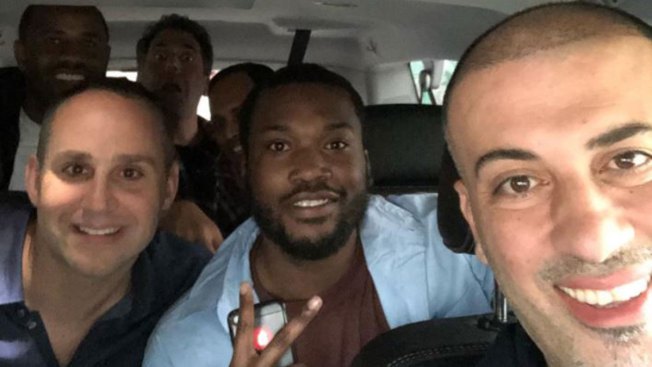 Overall, the judge had it out for Philly rapper. Reports came out that the female judge who convicted him of the 2-4 years, was trying to persuade him to sign under her friend's record label, then wanted him to sing a Boys 2 Men song pleading for his freedom. Of course he didn't and BOOM he's been in jail every sense. The public has been very supportive of the injustice that's he's faced while this whole situation has prolonged. Celebrities from Jay-Z to T.I. to Kevin Hart have been advocates for him since the beginning and luckily they used their platforms to bring awareness of his situation, a black man being "overly" charged for unnecessary reasons.
When Meek was released, his friend Mike Rubin, who is co-owner of the Philadelphia 76ers, picked him up in a private helicopter and whisked him away to the 76ers playoff game against the Miami Heat, and coincidentally THEY WON! Even Kevin Hart silly ass was there with him, sitting court side. Meek was even able to ring the ceremonial Liberty Bell replica.
Not only did the the 76ers win the playoff, but they won first round, and on top of that, it's been 5 years since they've been in the playoffs, so it looks like it'll be a great year for Philly. They already won the Superbowl and if they get even further in the playoffs and not win, it'll still be a win for them overall. 
What was very meaningful to me was seeing Meek with his son on the court. I think it's beautiful to see him reunited with one of his sons. 
credit: nj.com
I'm glad that an innocent black man is free and he says he'll be using his platform to shed light on situations like this. Social injustice is real and Meek says:
"I understand that many people of color across the country don't have that luxury and I plan to use my platform to shine a light on those issues"
GO MEEK! 
Comment below your thoughts on the whole Meek Mill situation.